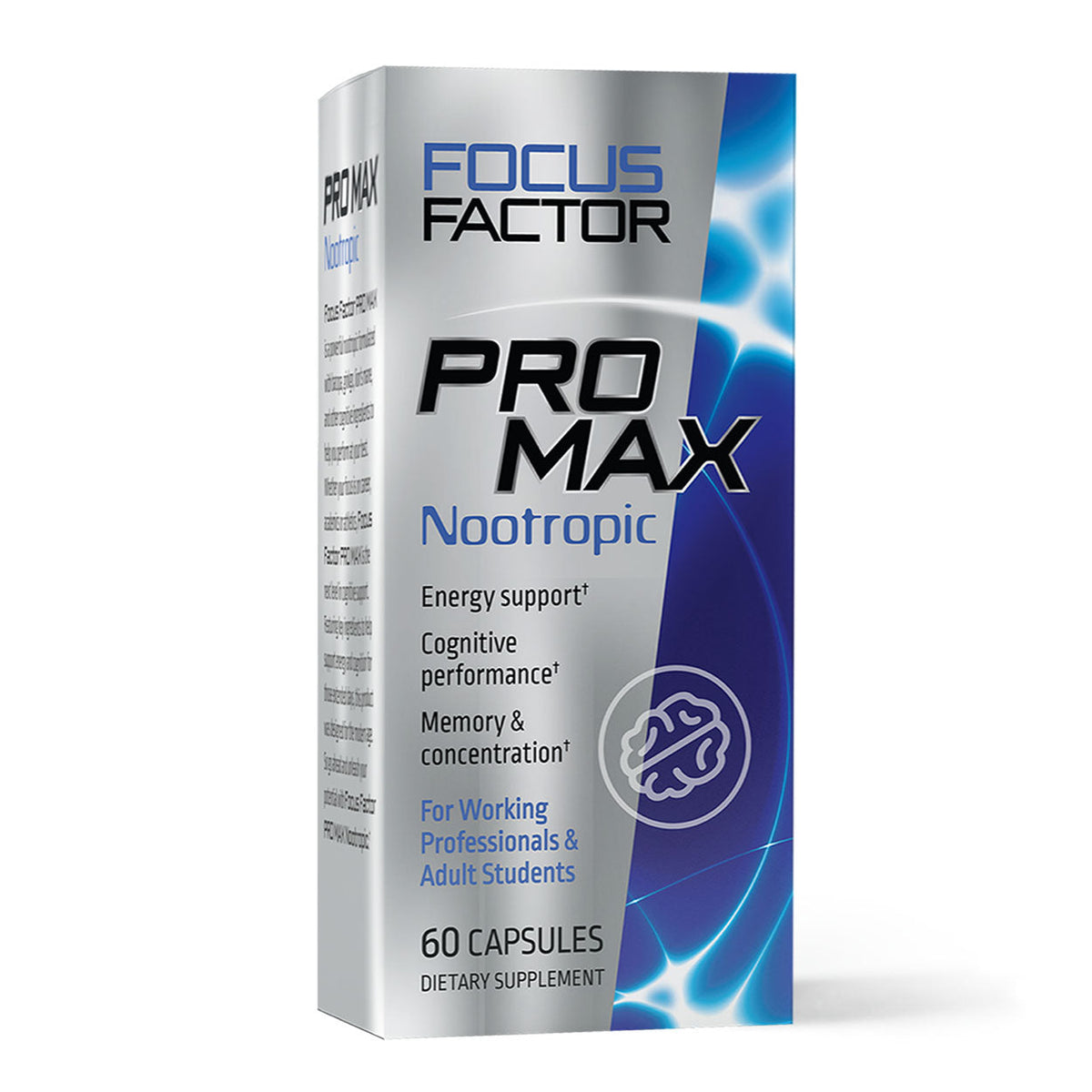 Focus Factor® Nootropics
-
Pro Max
-
60 Capsules

Free Shipping in USA
for Orders Over $50

Energy
Support*

Cognitive
Performance*

Memory &
Concentration*
For Working Professionals & Adult Students
Focus Factor PRO MAX is a powerful nootropic formulated with bacopa, ginkgo, lion's mane, and other cognitive ingredients to help you perform at your best. Whether your focus is on career, academics or athletics, Focus Factor PRO MAX is the next level in cognitive support. Featuring key ingredients to help support energy and cognition for those extended days, this product was designed for the modern age. So go ahead and unleash your potential with Focus Factor PRO MAX Nootropic.*
Energy support*
Cognitive performance*
Memory & concentration*
Suggested use
Adults - take 2 capsules per day.
Supplement facts
Serving Size: 2 capsules
Servings Per Container: 30
Amount Per Serving
%DV
Thiamin (as thiamine mononitrate)
0.75 mg
63%
Riboflavin
0.85 mg
65%
Niacin (as inositol hexanicotinate and niacinamide)
10 mg
63%
Vitamin B6 (as pyridoxine alpha-ketoglutarate and pyridoxal-5'-phosphate)
1 mg
59%
Folate (200 mcg folic acid)
340 mcg DFE
85%
Vitamin B12 (as cyanocobalamin)
2,500 mcg
104,167%
Balance Blend
322 mg
**
Ginkgo biloba extract (leaf) (std. to 24% ginkgo flavonglycosides, 6% terpene lactones), Caffeine anhydrous, Bacopa Monnieri extract, Lion's Mane (Hericium erinaceus) (mycelium and fruiting body), Dimethylaminoethanol (DMAE Bitartrate), Green tea extract (std. to 98% polyphenols and 45% EGCG), Phosphatidylserine.
Other Ingredients
Microcrystalline cellulose, gelatin, stearic acid, silicon dioxide, magnesium stearate.
Contains
Soy
Warning: KEEP OUT OF THE REACH OF CHILDREN.
If you are pregnant, nursing, or have a medical condition, please consult healthcare professional before use.
Contains 80 mg of caffeine per serving.
%DV = Percent Daily Value
** Daily Value (DV) not established.
Shipping info
We Deliver Worldwide‡
| Shipping | Duration | Cost |
| --- | --- | --- |
| USA | 5–7 working days± | $6.95 USD |
| USA Priority Mail | 1–3 working days± | $14.95 USD |
| Rest of the world‡ | 1–4 weeks± | $14.95 USD |
‡ Worldwide shipping excludes UAE, Cuba, Iran, North Korea, Myanmar, Sudan and Syria.
± Delivery times are approx. and depend on the postal service.
Customer reviews
PRO MAX Nootropic
Could really tell a difference. Greater focus + less anixety.
REALLY DOES WORK
I tried this new product and it really worked for me. I suggested to my family members and they are also using FOCUS FACTO NOOTROPICS
PRO MAX.
Makes me jittery but wow I can remember again
I'm sensitive to caffeine ( my bad should have read label better) I've taken regular focus factor 2 tablets not the 4 on label for 2 years now its made a big difference I tried the pro max just to try it well its night and day I can feel the difference at 3 weeks but I do get caffeine high. I've went down to 1 every other day with pro max and my usual 2 tabs of regular focus factor - I think that should help with the jitters I also cut out my mid day coffee run. I did see regains in memory recalling phone #'s and in general just being able to concentrate more. So I can suggest this but just need to suggest if your sensitive to caffeine to watch out especially if you drink caffinated beverages in morning and mid-day.
Just Launched
Focus Factor®
Brain Hub
Improve your skills with brain games, treat your mind with meditations, learn with short form audio books.